While more and more business processes are being digitized over time, many day-to-day activities are still manual and can consume a high level of resources, such as valuable time and high costs. Recurring processes in particular, such as signing documents and contracts and documenting them, take up a lot of space in the day-to-day work of a wide range of departments, from HR to sales to the legal department.
With SIGN8, these time-consuming processes are finally to be digitized. To cover all processes completely, SIGN8 therefore offers both digital signatures and electronic seals that are secure, uncomplicated and legally valid.
But what exactly is the difference between an e-signature and a seal?
A digital seal is equivalent to a company stamp and can only be used by legal entities. The electronic signature, on the other hand, is used like a normal signature and applies only to natural persons. However, in order to ensure that the respective seals and signatures have been issued by the corresponding company or person, one needs different types of electronic signatures and seals, which differ in their application and function.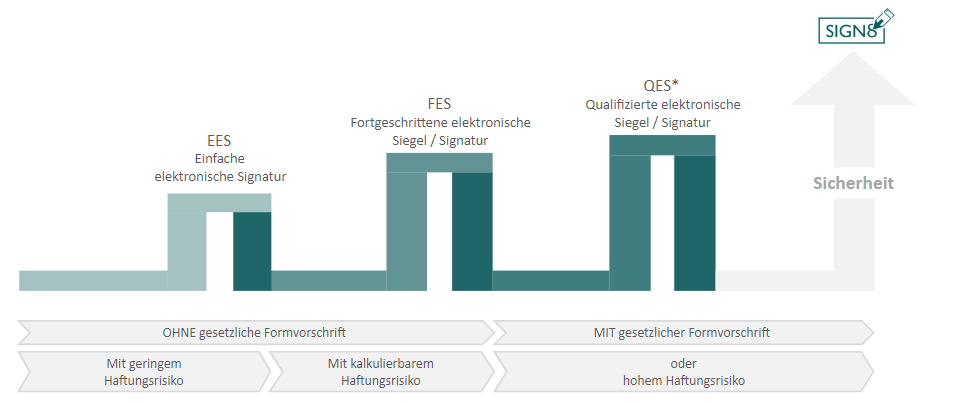 Simple electronic signature (EES) can be used for jobs with low legal and financial risk, such as workflows or order confirmations. For documents such as purchase, company, patent, trademark, or copyright contracts, the advanced electronic signature (FES) is a good choice, or the corresponding seal. As the most secure, but also the most complex form of digital signature, the qualified electronic signature (QES) or the corresponding seal can legally replace the legal written form of the signature or the company stamp on certain documents. SIGN8 offers all signature and seal types, making it the ideal tool to translate all your signature processes securely and easily. You can read more details about the different application areas of e-signatures, at: https://sign8.eu/#aboutsign8.
The various signatures and SIGN8's numerous other functions are controlled via a web app with an intuitive user interface. But how exactly can you apply for a seal in SIGN8 for your own company?
For an application for the advanced or qualified seal*, the application center on the website https://sign8.eu can be used. The person applying for this can use a prefabricated template and fill it out with the required company data, which is then transmitted to SIGN8. After receiving these data, they are checked against the extract from the Commercial Register. After successful verification, the application is signed with a qualified signature by the person authorized to represent the applicant and the seal is then created for the company.
After this one-time process, a team is now created, with the requesting person as a member. This person receives the admin role and is authorized to seal for the respective company and to independently select further authorized sealers.
If you would like to test SIGN8's e-signatures and seals for your company, you can request a 14-day free demo version at: https://app.sign8.eu/new-org.
The extensive usability of SIGN8 to support our customers' everyday work is very close to our hearts, which is why we are constantly developing this technical solution and working on new functions. If you have any questions about SIGN8 or suggestions for new features, please feel free to contact us at: info@sign8.eu.
* Together with the QES soon possible. This requires certification as a Trusted Service Provider by the German Federal Network Agency. SIGN8 will soon be a Trusted Service Provider certified in Germany.