Trust Center Infrastructure
for TSPs
Audit-compliant documentation and identification services available as individual components or complete packages
Get certified as a TSP yourself
You want to get certified as a TSP yourself but don't have the capacity for the development process?
Are you looking for a reliable and trustworthy partner?
You want a guarantee that all components are eIDAS compliant?
Audit-compliant documentations
You're in search of a provider who can provide all the necessary documentation for the components required for certification.
Identification Services
We have a wide range of already integrated eIDAS-compliant identity verification methods.
These can be used upon request and supplemented as needed.
As individual components or complete package
Get a comprehensive plug-and-play solution or only the components you need – you decide!
Get in touch now and become a TSP with our support!
How can I become a TSP myself using SIGN8?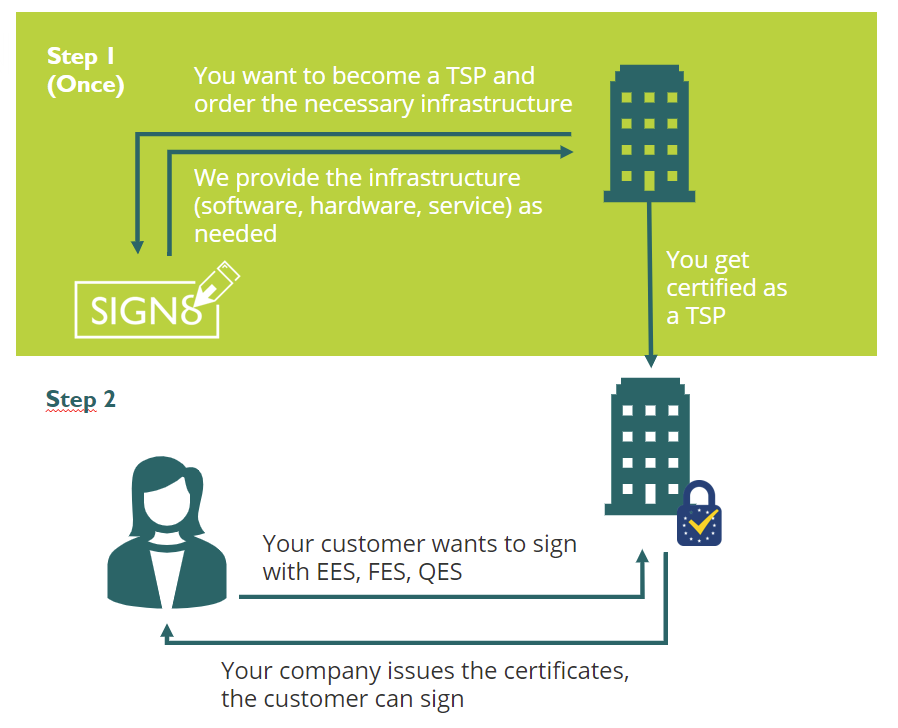 Infrastructure components as required
SIGN8 can support you with all the necessary infrastructure components for your certification. Since we are certified as a TSP ourselves, we can optimally accompany and support you on your journey!
Made and certified in Germany
Developed by German experts, certified and monitored by the Federal Network Agency.
Safety
Our systems are checked at regular intervals in internal and external independent audits, including by the Federal Network Agency. This guarantees that we provide you with Trust Center infrastructure components of the highest quality.
Certified
SIGN8 is a certified Trust Service Provider itself. We can provide you with these Trust Centre infrastructure components as a service provider.
Can be integrated
With our deep technical expertise, we're here to assist you in seamlessly integrating them into your systems.
Flexibility
Adapt SIGN8 to your needs. With the whitelabelling option, you can adapt the solution to your corporate design.
Trust Centre Infrastructure Technology for TSPs
The diagram illustrates the individual and scalable components of the Trust Center infrastructure from a technological perspective. The interaction of the elements in the different layers is of particular importance. The delivery of the individual components takes place on a modern, agile, scalable container architecture.