The use of electronic signatures has already made everyday work much easier in many companies. This development is driven by the increasing digitalization of business processes and the growing desire for mobile work. A digital signature can replace a handwritten signature, but the same applies here: Not all signatures are created equal. Not every signature type can be used for every document; rather, the form requirements of the law result in different areas of application. This article explains, for example, what distinguishes a qualified electronic signature from a simple signature.
Basically, three different forms of digital signatures are available. The simple, the advanced and the qualified electronic signature. These are regulated in the so-called eIDAS Regulation of the European Union, which is intended to create uniform conditions for the cross-border use of electronic trust services and means of identification.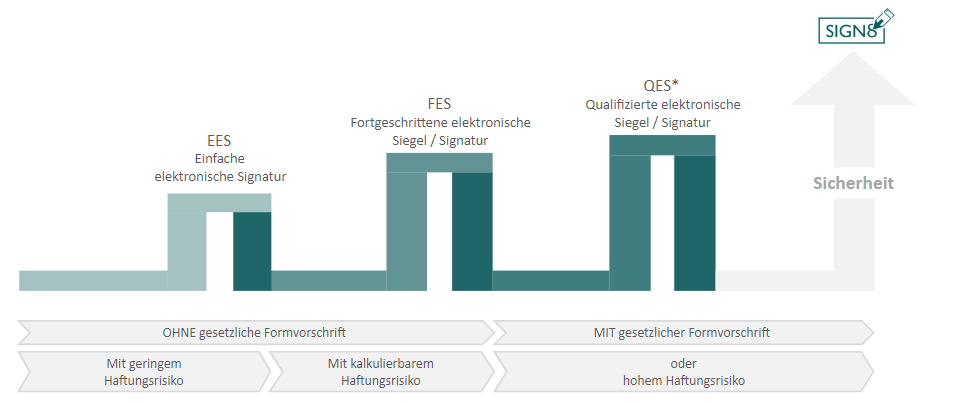 According to this, the simple electronic signature, or EES for short, offers the lowest level of security. It can be done without major identification of the signing person and can be compared with a scanned manual signature. No more precise legal framework is specified here. This form of signature can be used, for example, for internal contracts or for signing data protection declarations.
The advanced electronic signature, or FES for short, offers greater security, but must also meet higher requirements. These result from the Art.26 eIDAS Regulation. The signature must be uniquely identifiable, identify the signatory, be under the signatory's sole control, and make it possible to detect any subsequent changes to the data. It is used, for example, for sales and B2B contracts. SIGN8 authenticates this type of signature using two-factor authentication, sending an SMS to the stored phone number.
The qualified electronic signature, or QES for short, is the most secure form of electronic signature. As with the FES, the legal framework is created in the eIDAS Regulation. Articles 28-30 of the Regulation are supplemented by Annexes I and II. This solution is verified by the so-called TSP certificate, which creates legal certainty and represents a uniform solution for all EU member states. Thus, a QES issued and recognized in one member state is seen as such in all member states.
The QES completely replaces the handwritten signature and complies with the legal written form. SIGN8 is about to certify its own solution, making it the only cross-industry German provider of QES. The QES can be used, for example, to create temporary employment and rental contracts or SEPA direct debit mandates. To authenticate the most secure form of electronic signature, the signer must have their identity confirmed using their ID card in a video chat with an identification provider.
In SIGN8, people can be prompted to sign a document using workflows. The sender can select the type of signature individually for all persons involved. In addition, SIGN8 is currently working on electronic seals. These correspond to a company stamp and are recognized in all states of the EU after certification. Details on all technical features can be found under SIGN8 | Versatile functionality for secure digital signatures.
If you have further questions or are interested in a free demo version of our solutions, please contact us at Contact | SIGN8.