Legally binding
secure
Certified
Trust in SIGN8! Your smart all-in-one solution for digital signatures and seals.
Your all-in-one signature solution
All-in-One solution
Whether it's status tracking, templates or whitelabeling features – SIGN8 provides you with numerous functions that make your signature processes even easier. All functions can be found here.
Without hardware
Do you still know drawing pads and smart cards? That is the past. With SIGN8 you do not need any additional hardware. This saves you time, money and user training.
Sign when you want – where you want.
Support
Do you need assistance? Our experts are happy to help you out. If you have any questions about the operation, please have a look at our documentation or send us a message.
We are also happy to help with integration questions and are available as your partner for process-related issues.
Arrange a non-binding consultation appointment now
All signature and seal types? All!
Simple
The simplest type of e-signature with direct allocation to the signatory. For documents with low legal and financial risk and without legal or contractual written form requirements, such as internal documentation or order confirmations.
Advanced
Ideal for most documents required in everyday business without legal or contractual written form requirements, such as purchase, partnership (GbR, OHG, KG), patent, trademark or copyright contracts. Authentication by SMS.
Qualified
Use in case of legal or contractual written form requirement. Most secure form of e-signature through e-Ident procedure. Required for special contracts such as employee leasing contracts, consumer loan contracts and public procurement procedures.

Easter Special: Save 30%!*
Discount code: Easter30
*valid until 10.04.2023 for all annual subscriptions (Freelancer, Business & Enterprise)
Many functions
We offer you numerous functions to make your signature processes faster and easier. Here you will find all the functions.
A tool for everything
Whether simple digital signatures, advanced or qualified electronic signatures & seals. With SIGN8 you only need one tool for all your signature processes.
Safety
Your data is safe with us. Our systems are checked at regular intervals in internal and external independent audits, including by the Federal Network Agency.
Flexibility
Adapt SIGN8 to your needs. This goes beyond whitelabelling functions. For example, set up standard emails or team structures.
Certified
SIGN8 is a certified Trust Service Provider. Your advantage – your documents are not sent to other providers, but remain secure with us.
Can be integrated
Integrate secure signature processes into your own applications in no time with the SIGN8 API. We will be happy to help you with any questions you may have.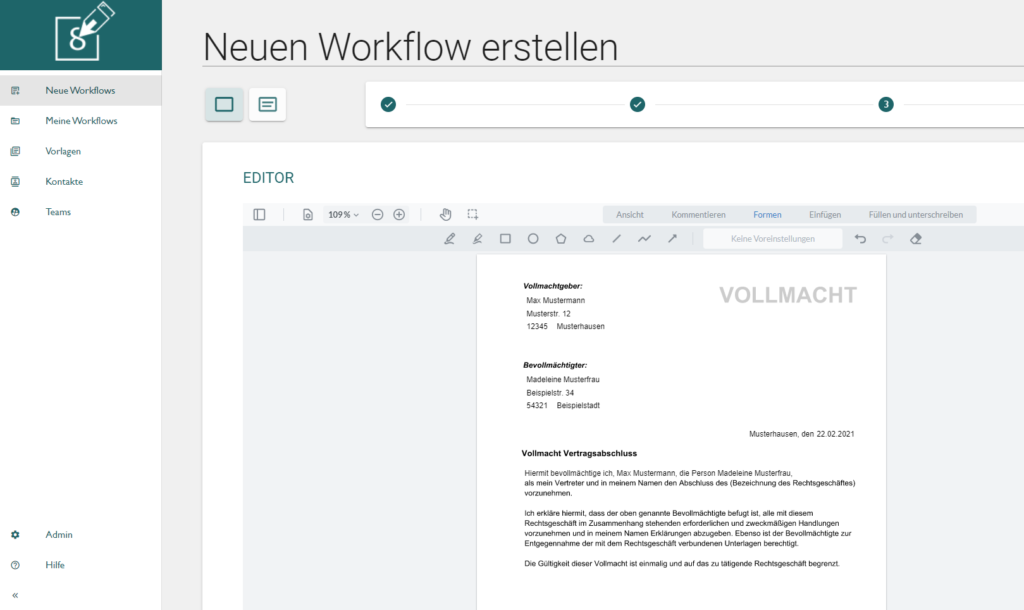 Do you have any questions?